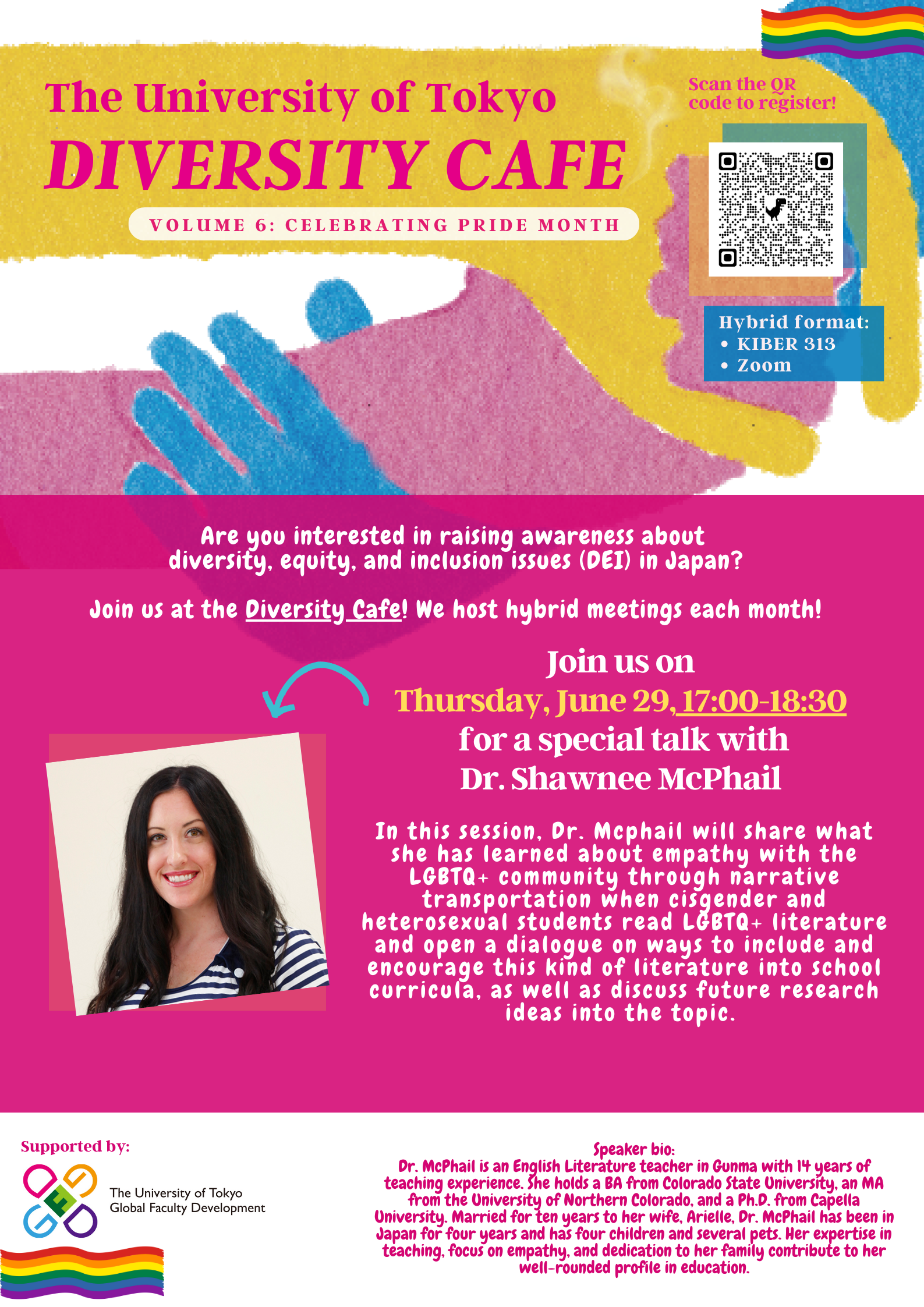 Diversity Cafe
TALK EVENTS
6.29 Diversity Cafe Vol. 6 Celebrating Pride Month!
Event Details
Date: Thu, June 29, 17:00-18:30 In person at KIBER 313/Online
Language: English
Discussion in Japanese is also possible.
*Walk-in ok too!
Speaker Bio
Shawnee Mcphail
Dr. McPhail is an English Literature teacher in Gunma with 14 years of teaching experience. She holds a BA from Colorado State University, an MA from the University of Northern Colorado, and a Ph.D. from Capella University. Married for ten years to her wife, Arielle, Dr. McPhail has been in Japan for four years and has four children and several pets. Her expertise in teaching, focus on empathy, and dedication to her family contribute to her well-rounded profile in education.
Event Details
Are you interested in raising your awareness about diversity, equity and inclusion (DEI) issues in Japanese society? Would you like to talk about these issues with other students and faculty in a safe environment and actively work towards improving inclusivity on and off campus?
Mission:
Aims to increase dialogue and awareness about diversity, equity, and inclusion (DEI) through mini-lectures, workshops, casual conversation, and other events.
Promote a safe environment for both students and faculty to talk about DEI issues, where all experiences and perspectives are valued.
Provide opportunities to actively improve DEI within and outside campus for students and faculty by promoting collaboration on various projects.
Target Audience:
All University of Tokyo students and faculty who would like to learn more about the experiences of diverse individuals and be involved in the research, planning, and implementation of inclusion projects
Summary of this session:
In this session, Dr. Mcphail will share what she has learned about empathy with the LGBTQ+ community through narrative transportation when cisgender and heterosexual students read LGBTQ+ literature and open a dialogue on ways to include and encourage this kind of literature into school curricula, as well as discuss future research ideas into the topic.
This will be followed by an open discussion and exchange between Diversity Cafe members.
Contact
back