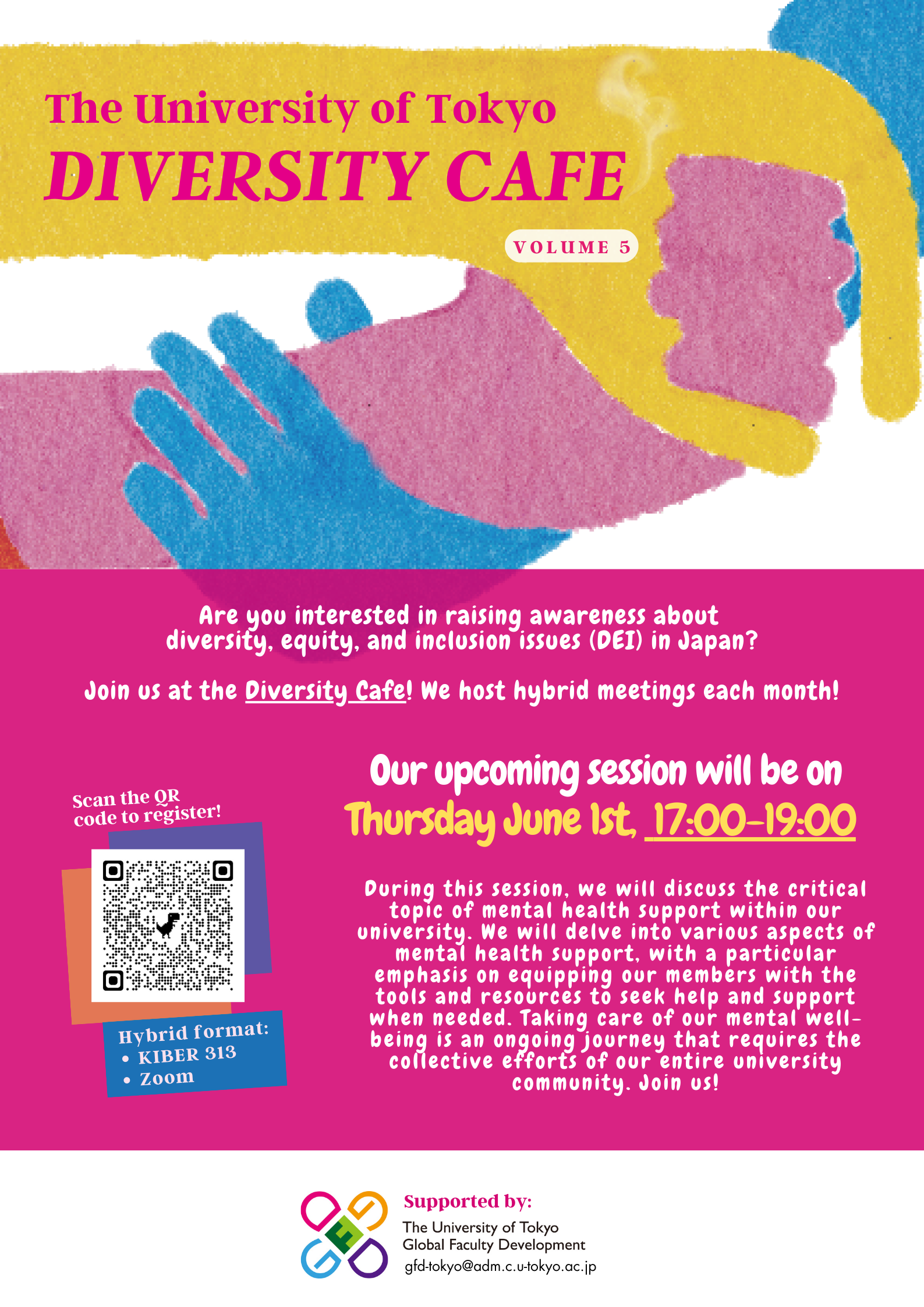 Diversity Cafe
TALK EVENTS
6.1 Diversity Cafe Vol. 5
Event Details
Date: Thu, June 1, 17:00-19:00 In person at KIBER 313/Online
Language: English
Japanese language support is available
Are you interested in raising your awareness about diversity, equity and inclusion (DEI) issues in Japanese society? Would you like to talk about these issues with other students and faculty in a safe environment and actively work towards improving inclusivity on and off campus?
Mission:
Aims to increase dialogue and awareness about diversity, equity, and inclusion (DEI) through mini-lectures, workshops, casual conversation, and other events.
Promote a safe environment for both students and faculty to talk about DEI issues, where all experiences and perspectives are valued.
Provide opportunities to actively improve DEI within and outside campus for students and faculty by promoting collaboration on various projects.
Target Audience:
All University of Tokyo students and faculty who would like to learn more about the experiences of diverse individuals and be involved in the research, planning, and implementation of inclusion projects
Summary of this session:
During this session we will discuss about the important topic of mental health support within our university. We will delve into various aspects of mental health support, with a particular emphasis on equipping our members with the tools and resources to seek help and support when needed.taking care of our mental well-being is an ongoing journey that requires the collective efforts of our entire university community. Join us!

This will be followed by an open discussion and exchange between Diversity Cafe members.
Contact
back