1.27 Diversity Cafe Vol. 3
Event Details
Diversity Cafe Vol. 3
Date: Fri, Jan 27th, 17:00-19:00 (Online)
English-Japanese language support available
Are you interested in raising your awareness about diversity, equity and inclusion (DEI) issues in Japanese society? Would you like to talk about these issues with other students and faculty in a safe environment and actively work towards improving inclusivity on and off campus?

Mission:
Aims to increase dialogue and awareness about diversity, equity, and inclusion (DEI) through mini-lectures, workshops, casual conversation, and other events.
Promote a safe environment for both students and faculty to talk about DEI issues, where all experiences and perspectives are valued.
Provide opportunities to actively improve DEI within and outside campus for students and faculty by promoting collaboration on various projects.

Target Audience:
All University of Tokyo students and faculty who would like to learn more about the experiences of diverse individuals and be involved in the research, planning, and implementation of inclusion projects.

Meetings:
Meetings will be held approximately once a month.
Based on member interest and accessibility, we will transition to in-person meetings or use a hybrid format.
Contact
gfd-tokyo[at]adm.c.u-tokyo.ac.jp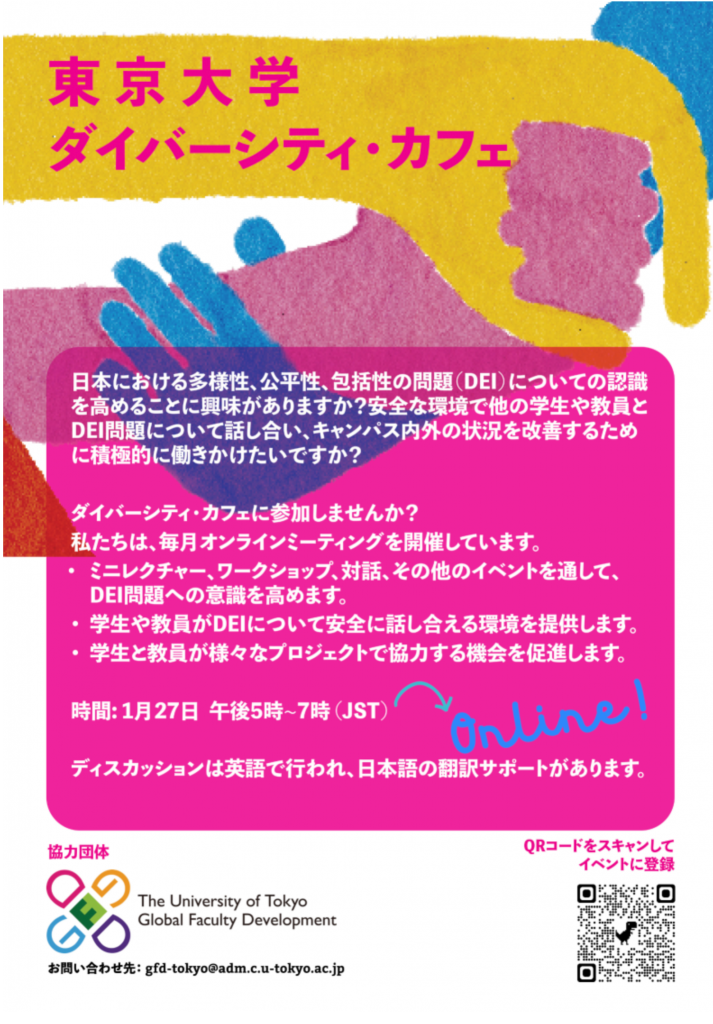 ダイバーシティ・カフェVol. 3
開催日時 1月27日(金)17:00~19:00 オンライン 
英語・日本語 サポートあり
日本における多様性、公平性、包括性の問題(DEI)についての認識を高めることに興味がありますか?安全な環境で他の学生や教員とDEI問題について話し合い、キャンパス内外の状況を改善するために積極的に働きかけたいですか?
ダイバーシティ・カフェに参加しませんか?
私たちは、毎月オンラインミーティングを開催しています。
ミニレクチャー、ワークショップ、対話、その他のイベントを通して、 DEI問題への意識を高めます。
学生や教員がDEIについて安全に話し合える環境を提供します。
学生と教員が様々なプロジェクトで協力する機会を促進します。
ディスカッションは英語で行われ、日本語の翻訳サポートがあります。
お問い合わせ
gfd-tokyo[at]adm.c.u-tokyo.ac.jp
back