7.3 Shifting Paradigms: Empowering Students through Culturally Responsive Pedagogy in Higher Education (Online Event)
Event Details
Speaker: Yilin Sun
Date: Monday, July 3, 12:00-13:30  JST
Venue: Zoom 
Language: English with AI-generated captions
Speaker Bio
Yilin Sun
Speaker bio:
Dr. Yilin Sun is an emeritus professor, former president of TESOL International Association (2014-15), the founding president of MAAL (Macau Assn. for Applied Linguistics), and president of WAESOL (2003,2007). She has extensive experience in teacher education, leadership development, assessment, adult education, and faculty professional development. In 2021, The English Language Specialist Program of the U.S. Department of State recognized Dr. Sun as one of thirty specialists who have impacted the TESOL field since 1991.
Abstract
Higher education (HE) has recently undergone significant changes due to technology, COVID-19, and global issues. HE educators now find themselves in unprecedented circumstances, grappling with the widening gaps in access and equity to quality education, particularly for students from remote areas and historically underserved populations. Additionally, there is an urgent demand to equip students with the essential skills and competencies necessary for the rapidly evolving global workforce.
In this talk, Dr. Sun will address the questions:
How can educators prepare themselves to shift the paradigm in the new learning environment? How can HE educators incorporate asset-based pedagogical principles to ensure equitable access to quality education for all students?
Participants will be encouraged to explore these questions and challenge conventional ways of teaching and learning in Japan.
Contact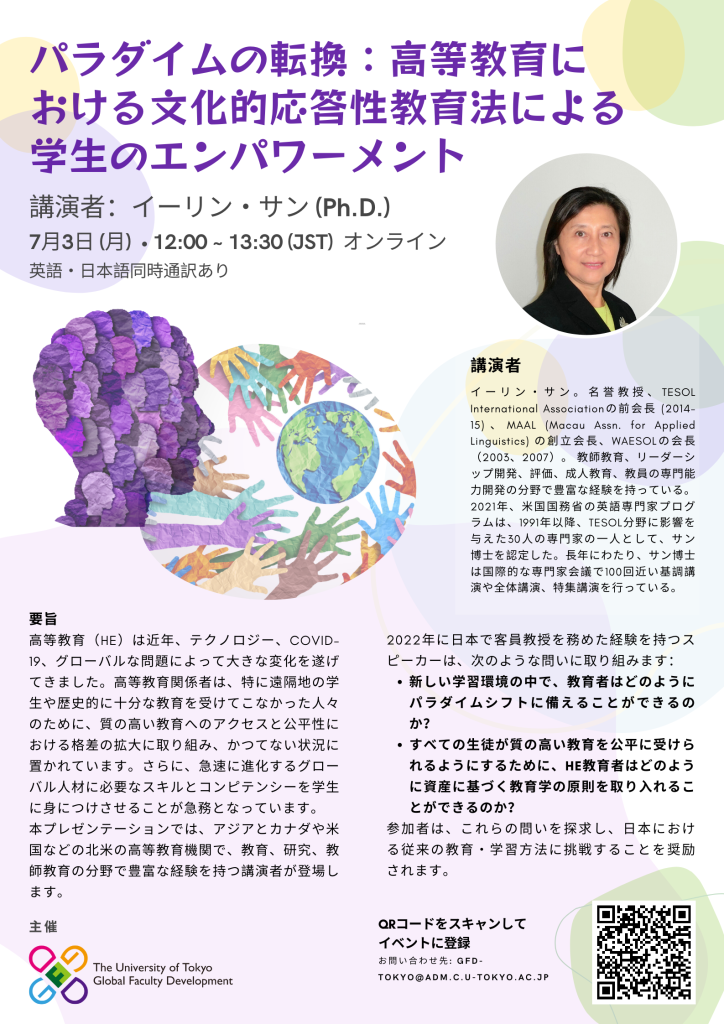 back